/ National Socialism

National Socialism
Endorsement of National Socialist activities or ideologies takes many forms. However, not every racist or inflammatory statement automatically qualifies as approving National Socialist ideology. In Austria, denial of National Socialist crimes and the dissemination or glorification of National Socialist content is punishable by law. This includes acts such as distributing speeches by National Socialist functionaries, making heroic depictions of the National Socialist German Workers' Party (NSDAP), Schutzstaffel (SS) or Sturmabteilung (SA), founding National Socialist societies, recruiting members for such organisations or simply being involved in them in any way. When it comes to combating National Socialist content on the internet the statutory provisions of the 1947 Prohibition Act and the 1960 Insignia Act are used as the primary basis for criminal proceedings. Both sets of provisions clearly state that critical appraisal of the National Socialist past is not banned, but approval of such activities, measures and ideas is.
1947 Prohibition Act and 1960 Insignia Act as a basis
If you are unsure as to whether the content you have seen is illegal National Socialist material, please report it anyway. The Stopline team investigates content (texts, images, music, videos) to see whether it
denies Nazi crimes,
glorifies National Socialist ideology or
depicts prohibited insignias or uniforms.
When making a report, giving as detailed a description as possible of the content's precise location helps Stopline act quickly. However, it is only possible to initiate countermeasures in Germany and Austria. In other countries (e.g. the USA) there is no legal basis for action as such activities are protected under freedom of speech laws.
Prohibited symbols and signs
In Austria, the Swastika and the double lightning bolts of the SS, as well as National Socialist emblems, symbols and characteristics are prohibited. Each symbol has to be appraised individually as many occupy a legal grey zone.
Critical appraisal is permitted!
The use of National Socialist images and texts is not prohibited if it is clear from the context that they are being used in opposition to National Socialism and its ideology. Examples include a Swastika with a line through it or held above a bin.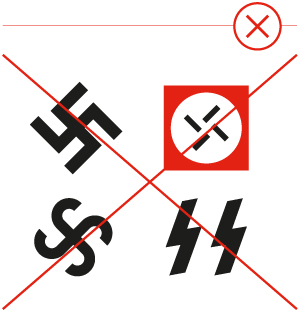 Legal basis - only available in German
Insignia Act (excerpt*) (Federal Law of 5 April 1960 prohibiting certain insignia)
§ 1 (1) Abzeichen, Uniformen oder Uniformteile einer in Österreich verbotenen Organisation dürfen öffentlich weder getragen noch zur Schau gestellt, dargestellt oder verbreitet werden. Als Abzeichen sind auch Embleme, Symbole und Kennzeichen anzusehen […]
§ 2 (1) Die Verbote des § 1 finden, wenn nicht das Ideengut einer verbotenen Organisation gutgeheißen oder propagiert wird, keine Anwendung auf Druckwerke, bildliche Darstellungen, Aufführungen von Bühnen- und Filmwerken sowie Ausstellungen, bei denen Ausstellungsstücke, die unter § 1 fallen, keinen wesentlichen Bestandteil der Ausstellung darstellen.
(2) Auf sonstige Ausstellungen finden die Verbote des § 1 dann keine Anwendung, wenn sich die Ausstellung und deren Zweckbestimmung eindeutig gegen das Ideengut der betreffenden verbotenen Organisation richtet.
National Socialism Prohibition Act (excerpt*) - (Constitutional law of 8 May 1945 on the prohibition of the National Socialist German Workers' Party [NSDAP])
§ 1 Die NSDAP, ihre Wehrverbände (SS, SA, NSKK, NSFK), ihre Gliederungen und angeschlossenen Verbände sowie alle nationalsozialistischen Organisationen und Einrichtungen überhaupt sind aufgelöst; ihre Neubildung ist verboten. […]
§ 3 Es ist jedermann untersagt, sich, sei es auch außerhalb dieser Organisationen, für die NSDAP oder ihre Ziele irgendwie zu betätigen.
§ 3a Eines Verbrechens macht sich schuldig […]
1. wer versucht, eine gesetzlich aufgelöste nationalsozialistische Organisation aufrechtzuerhalten oder wiederherzustellen oder mit einer solchen Organisation oder einer in ihrem Namen handelnden Person in Verbindung zu treten; als nationalsozialistische Organisationen (§ 1) gelten: die NSDAP, die SS, die SA, das NSKK, das NSFK, der NS-Soldatenring, der NS-Offiziersbund, alle sonstigen Gliederungen der NSDAP und die ihr angeschlossenen Verbände sowie jede andere nationalsozialistische Organisation;
2. wer eine Verbindung gründet, deren Zweck es ist, durch Betätigung ihrer Mitglieder im nationalsozialistischen Sinn die Selbständigkeit und Unabhängigkeit der Republik Österreich zu untergraben oder die öffentliche Ruhe und den Wiederaufbau Österreichs zu stören, oder wer sich in einer Verbindung dieser Art führend betätigt; […]
3. […]
4. wer für eine solche Organisation oder Verbindung Kampfmittel, Verkehrsmittel oder Einrichtungen zur Nachrichtenübermittlung herstellt, sich verschafft oder bereithält.
[…]
§ 3d Wer öffentlich oder vor mehreren Leuten, in Druckwerken, verbreiteten Schriften oder bildlichen Darstellungen zu einer der nach § 1 oder § 3 verbotenen Handlung auffordert, aneifert oder zu verleiten sucht, insbesondere zu diesem Zweck die Ziele der NSDAP, ihre Einrichtungen oder Maßnahmen verherrlicht oder anpreist, wird […] bestraft.
[…]
§ 3h […] wird auch bestraft, wer in einem Druckwerk, im Rundfunk oder in einem anderen Medium oder wer sonst öffentlich auf eine Weise, daß es vielen Menschen zugänglich wird, den nationalsozialistischen Völkermord oder andere nationalsozialistische Verbrechen gegen die Menschlichkeit leugnet, gröblich verharmlost, gutheißt oder zu rechtfertigen sucht.
[…]
* The full German-language text can be found at www.ris.bka.gv.at.